Our Philosophy
The Self Center, P.C. is proud to commit time, energy and effort to a profession where we can help so many people achieve what is best in a kind, compassionate manner. As medical technology advances, we believe that the personal approach to your health and physical well being is a priority.
We strive to create an environment which fosters personal growth and development of our patients on their journey toward better health. Finally, we believe that commitment to this process of personal evaluation, goal setting and open communication will result in a happier, healthier you!
Self Center Perks
Receive valuable
mobile coupons
delivered right to your your mobile phone.
Sign up by texting:
selfcenter
to
46786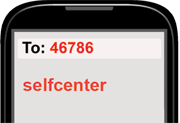 Dr. Stan Self

e to the Self Center, P.C. located on the Eastern Shore of Mobile Bay in Fairhope, Alabama. When you visit the Self Center, it's all about you. Whether you want to improve your health or your appearance, the Self Center is there to help you determine the services necessary to accomplish your goal and to assist and support you as you make positive changes that will leave you feeling healthier, stronger and more confident than ever. At the Self Center we strive to deliver premium quality health care for all patients.
Our aim is to help you feel better…look better…live better. We specialize in liposuction, various cosmetic treatments, weight loss and clinical research.
Using Botox®, Restylane®, Perlane® and Juvederm®, we offer cosmetic treatment for facial wrinkles, lines and folds, lip enhancement and other issues to make you have a more youthful appearance.. Also available are chemical peels and light/laser photo rejuvenation to improve your skin texture as well as permanent hair reduction.
An exciting procedure at the Self Center is tumescent liposuction for fat reduction in localized areas such as the abdomen, love handles, etc. This form of liposuction is used to tackle those problem areas that just won't go away even with diet and exercise. Mesotherapy, another topical fat reduction procedure is also used to improve the appearance of the abdomen, love handles, thighs and buttocks. Vein therapy is frequently desirable to combat unsightly spider and varicose veins
Our Weight Loss Center provides you a comprehensive medical treatment for weight loss in overweight and obese patients and diseases related to obesity.
We conduct various clinical research trials in our Clinical Research Center. Clinical trials are available for weight loss and other health issues; an excellent opportunity for you at no charge. The Self Center is the center for Mobile, Baldwin County and the Eastern Shore of Fairhope, Alabama.
Come explore the secrets to outsmart the aging process.