Our Philosophy
The Self Center, P.C. is proud to commit time, energy and effort to a profession where we can help so many people achieve what is best in a kind, compassionate manner. As medical technology advances, we believe that the personal approach to your health and physical well being is a priority.
We strive to create an environment which fosters personal growth and development of our patients on their journey toward better health. Finally, we believe that commitment to this process of personal evaluation, goal setting and open communication will result in a happier, healthier you!
Recent News
Jun 1, 2010
Dr. Self is accepting new patients for primary medical care, most insurance plans accepted
Jun 1, 2010
June 1st Winner posted . . .
Thank you for this past year
K. Stan Self, MD, FAAFM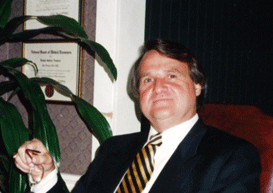 K. Stan Self, M.D., has been a practicing family physician for the past 30 years and continues to practice and reside in Fairhope, AL. Since 1976, he has been an active member of the medical staff at Thomas Hospital and has been a Clinical Assistant Professor in the College of Medicine, Department of Family Practice at the University of South Alabama Medical School.
Dr. Self is a graduate of Huntingdon College and has a Master of Science degree in human physiology from Auburn University. He played basketball for Huntingdon and was inducted into the Basketball Hall of Fame in 1991. Dr. Self received his M.D. degree from the University of Alabama School of Medicine. Completing his residency at the Medical University of South Carolina, he became Board Certified in Family Practice in 1976 and was awarded the degree of Fellow in 1979. In 1991 Dr. Self was honored by being inducted in the Athletic Hall of Fame at Huntingdon College.
Self Center, P.C. was incorporated in 1991 when Dr. Self began a practice dedicated to the treatment of obesity, related diseases and clinical research. His comprehensive program for weightloss is recognized by his peers both locally and nationally as one of the top weight loss centers in the US. He gained a key interest in research in 1969 while Director of Immunology Research Lab at the School of Medicine, University of Alabama in Birmingham under the guidance of Max D. Cooper, MD, a world renouned immunologist. During the past 15 years Dr. Self has been the investigator for various pharmaceutical companies in more than forty clinical research trials, Phase II - Phase IV, including obesity, hypertension, diabetes mellitus and others. Dr. Self is a frequent speaker sponsored by pharmaceutical companies to physician groups on the pharmacotherapy of obesity. He has had several scientific papers and abstracts published in scientific literature.
Having performed minor surgical procedures over the years Dr. Self became very interest in finding ways to accomplish this in a more cosmetically pleasing manner. His practice now includes the treatment of skin disorders especially related to aging. He is excited that Botox® and facial "fillers" such as Restylane®, Juvaderm®, Perlane® and others can be used to enhance one's appearance.. These are the top two procedures used by Dr. Self in his practice with excellent results and affordability. These procedures along with IPL (Intense Pulsed Light) and PDT (Photodynamic Therapy) can certainly help one to . . . look younger . . . longer.

After extensive study and training under Laser and IPL Specialist, Terri Boyert, non-ablative skin procedures have been added to his practice using the IPL and Nd:Yag laser; the two cornerstones for skin rejuvenation. Using these modalities Dr. Self has added to his practice the treatment of hair and vein reduction, rosacea, acne and precancerous lesions. In addition, the medicine, Levulan®, activated with IPL or BLU-U light source also provides treatment of actinic keratosis (sun damage), acne, rosacea, melasma (mask of pregnancy) and other skin disordeSince studying under Dr. Jacques Le Coz in Paris in 2003, he has added mesotherapy to his practice, which is a micro-injection treatment for body sculpting by reducing localized topical fat deposits, i.e., tummy pooches, love handles, thighs and cellulite. Since studying under Dr. Jacques Le Coz in Paris in 2003, he has added mesotherapy to his practice, which is a micro-injection treatment for body sculpting by reducing localized topical fat deposits, i.e., tummy pooches, love handles, thighs and cellulite.
In 2008, Dr. Self began performing Tumescent Liposuction at the Self Center. He completed a preceptorship for Tumescent Liposuction and other procedures in Beverley Hills, California, with Sam Assassa, M. D., the president of The American Association of Aesthetic Medicine and Surgery, who is renowned for his expertise in this field. Tumescent Liposuction is a surgical technique to remove unwanted deposits of fat from specific areas of the body. It is much safer as it is performed with local anesthesia and with smaller cannulas with results comparable to or better than usual liposuction.
In 2009, Dr. Self continued his training in tumescent liposuction and lipolysis by studing under Roger Hogue, MD at the Hogue Cosmetic Surgery in Maple Grove, MN and with Jeffrey B. Schafer, MD at the New Image Cosmetic surgery in Coronado, CA. Drs. Hogue and Schafer studied under Jeffrey A. Klein, MD, a guru in tumescent liposuction and the inventor of tumescent solution used in tumescent liposuction.
In 2009, Dr. Self expanded his interest in the treatment of veins and arteries expanded by completing an ultrasound vascular course under Jean White, RVT, William Schroedter, BS, RVT, FSYU, and E. J. Sanchez, MD at the Quality Vascular Imaging, Inc. in Venice, FL.
Dr. Self's motto is "It's all about you". His passion is assisting individuals in improving their health and appearance. He is dedicated to helping people feel better . . . look better . . . live better . . .
Dr. Self enjoys living near his 3 children and 4 grandchildren, who lovingly call him "Grand Stan". He is an avid golfer, loves to travel and enjoys expanding his culinary talents.