Recent News
Jun 1, 2010
Dr. Self is accepting new patients for primary medical care, most insurance plans accepted
Jun 1, 2010
June 1st Winner posted . . .
Thank you for this past year
Vein Therapy
Millions of women are bothered by spider veins - those small yet unsightly clusters of red, blue or purple veins that most commonly appear on the thighs, calves and ankles. In fact, it's estimated that at least half of the adult female population is plagued with this common cosmetic problem.

Today, many physicians are treating spider veins with sclerotherapy. In this rather simple procedure, veins are injected with a sclerosing solution, which causes them to collapse and fade from view. The procedure may also remedy the bothersome symptoms associated with spider veins, including aching, burning and swelling.

Although this procedure has been used in Europe for more than 50 years, it has only become popular in the United States during the past decade. The introduction of sclerosing agents that are mild enough to be used in small veins has made sclerotherapy predictable and relatively painless.

Spider veins - known in the medical world as telangiectasias are small, thin veins that lie close to the surface of the skin. Although these super-fine veins are connected with the larger venous system, they are not an essential part of it.

A number of factors contribute to the development of spider veins, including heredity, pregnancy and other events that cause hormonal shifts, weight gain, occupations or activities that require prolonged sitting or standing, and the use of certain medications.

Women of any age may be good candidates for sclerotherapy. In some women, spider veins may become noticeable very early on - in the teen years. For others, the veins may not become obvious until they reach their 40s.

Spider veins in men aren't nearly as common as they are in women. Men who do have spider veins often don't consider them to be a cosmetic problem because the veins are usually concealed by hair growth on the leg. However, sclerotherapy is just as effective for men who seek treatment.

During your initial consultation, your legs will be examined for more serious "deep vein" problems, often indicated by swelling, sores, or skin changes at the ankle. A hand-held Doppler ultrasound device is sometimes used to detect any backflow within the venous system. Duplex Ultrasonography is the gold standard for evaluating the leg veins which might be recommended before sclerotherapy is instituted.

Serious medical complications from sclerotherapy are extremely rare but may occur. Risks include the formation of blood clots in the veins, severe inflammation, adverse allergic reactions to the sclerosing solution and skin injury that could leave a small but permanent scar.

A common cosmetic complication is pigmentation irregularity - brownish splotches on the affected skin that may take months to fade, sometimes up to a year. Another problem that can occur is "telangiectatic matting," in which fine reddish blood vessels appear around the treated area, requiring further injections.

Sclerotherapy of spider veins is a relatively simple procedure that requires no anesthesia and will be performed in the office surgery suite. A typical sclerotherapy session is relatively quick, lasting only about 20 minutes. After changing into shorts, your legs may be photographed for your medical records. You will be asked to lie down on the examination table and the skin over your spider veins will be cleaned with an antiseptic solution. The sclerosing agent, Sotradecol, is injected into the affected veins. Bright, indirect light and magnification help ensure that the process is completed with maximum precision.
Vein Therapy Photos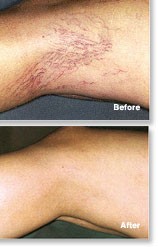 Cost
$250 per 20 minute session